PRODUCT FONTS
For set designs, the fonts and styles are already set, for custom designs, we can produce almost any design you could possibly want - letters, words and logos.
Our custom orders are split into 2 sides - text based designs using one of our 8 fonts options, and the fully custom logo/designs where you can choose unique options and we will quote directly.
Here's our set range of font styles we can produce which you can choose on our custom order page or refer to if submitting a quote form - 
Please note we can produce almost anything and if these fonts don't suit or meet your needs them please contact our team via email at support@vintagesign.cn or submit a quote form on our custom order page and we will accommodate your needs! Thanks~
PRODUCT DETAILS
See below for standard information about our signs...
Please note - Each sign (custom or pre-set design) comes standard with a remote control which can be used to dim the light (or make it brighter), switch it on and off from distance and program the light to flash/glow in multiple patterns - great for controlling your sign and making it fit it for each and every situation - party, chill or day time...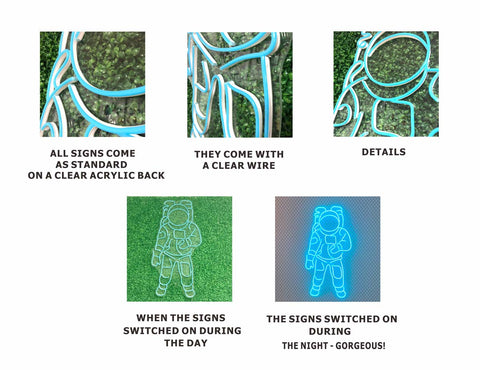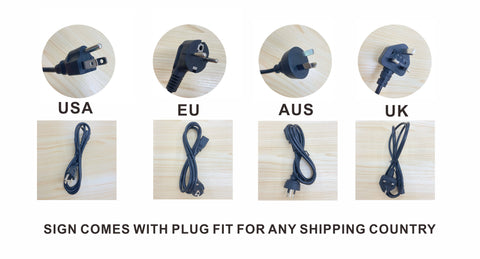 Each sign also has the option for backing to be trimmed in one of 2 ways - cut to shape or whole board: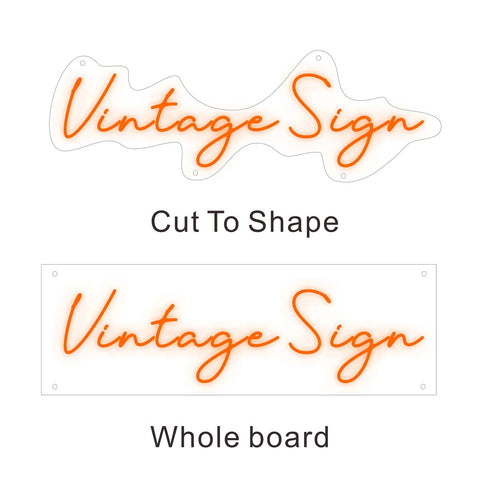 SIZE/STYLE GUIDE
RECOMMENDED SIZES
Refer to the general size/style guide below to help with your order. Please note, this is only a rough guide and if you need more help please contact our team at support@vintagesign.cn who will be happy to help!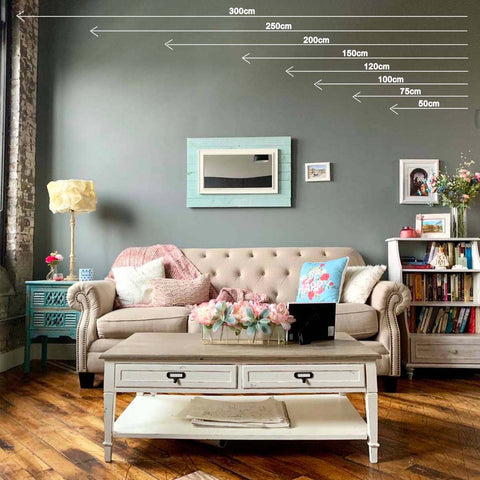 PEOCESSING
1/ Your sign is ready to ship within 10 working days. 
2/ It will need 5-10 working days to be shipped worldwide.

Material and our quality
1/ Our signs are LED Flexible Neon with Silicon and not the glass neon bulbs. 
2/ We will include a clear acrylic backing with hanging holes. 
3/ Comply with CE and ROHS (international safety standard)
4/ Transformer: External- 12 Volts
5/ Lifetime: Up to 50, 000 Hours 
6/ Warranty: 1 year warranty on electrical components
7/ Power Cord: 1-2m of power cable which connects to a standard power plug
8/ No buzzing sound

Mounting
1/ mounting pins:It is stainless steel pins used to tightly secure this item to a surface. You can mount the sign directly onto the wall (requires drilling into the wall).
Power Supply
1/ The sign is 12v,we will supply one power supplier which suit for 110V-230V.

Policies
1/ Warranty 1 year on manufacturer's defects (cost for shipping covered by buyer)
2/ No returns or exchange
NOTE
Important Notice
1/ Default for indoor using without water.
2/ The buyer is responsible for duties & taxes on International orders.
3/ Prices for custom neon on this page is inluding delivery cost.
If you don't want our standard products,How to order a custom one? 
Please refer to following steps:
1/Tell us what you :
 A description, you can attach images of something you have seen or like. If letters, chose font from our font chart(you can also send us the font name you like),please contact us on line.
A/ Dimensions(Please note that there is Minimum height restriction of letters, refer to the font chart)
B/ Color of your sign (refer to the color chart)
C/ Chose the structure of acrylic back board(small or big)
D/ Chose the plug head.
 Country of delivery for custom products
1/ We send you our best offer within 2 working days with a price and a mock-up of your sign for your review and approval.
2/ After confirmation and payment, we start making your order.

We'd love to create a bespoke Neon LED Sign just for you!Just send us a message! 

 Our custom neon LED signs are the perfect touch of light for your home decor, use it for your children or baby bedrooms, living room, man cave, office,store,... or as a wedding,events,business sign and party signs –big,small-we can make it a reality! 
Shipping
All orders are made to order by hand in our international production facility with the upmost of care and attention to detail.
Our hand made custom production time averages 5-10 working days after payment. Each piece is kept to the highest standard. You will always be kept updated on your piece throughout this time frame.
Please also be aware that many shipping carriers are experiencing delays due to COVID-19, and regardless of shipping service we use, they may be subject to some delays out of our hands. We will always do our best to ensure fastest possible production and delivery.
Shipping times refer to time in transit after the piece completes production and leaves our factory - Once your piece ships, you will receive a tracking number.
We offer a range of shipping options to all countries globally, with different prices to reflect different shipping speeds...
Shipping time guidelines are as follow:
UK Shipping
Standard Shipping (3-6 working days) 
Express Shipping (DHL Fully Tracked,2-4 working days)
European Shipping
Standard Shipping (3-6 working days) 
Express Shipping (DHL Fully Tracked,2-4 working days)
Worldwide Shipping
Standard Shipping(4-9 working days) 
Express Shipping(DHL Fully Tracked,3-6 working days)
Payment & Security
Your payment information is processed securely. We do not store credit card details nor have access to your credit card information.